WN150TA(15-50)H Low-Profile Compact Motorized Stage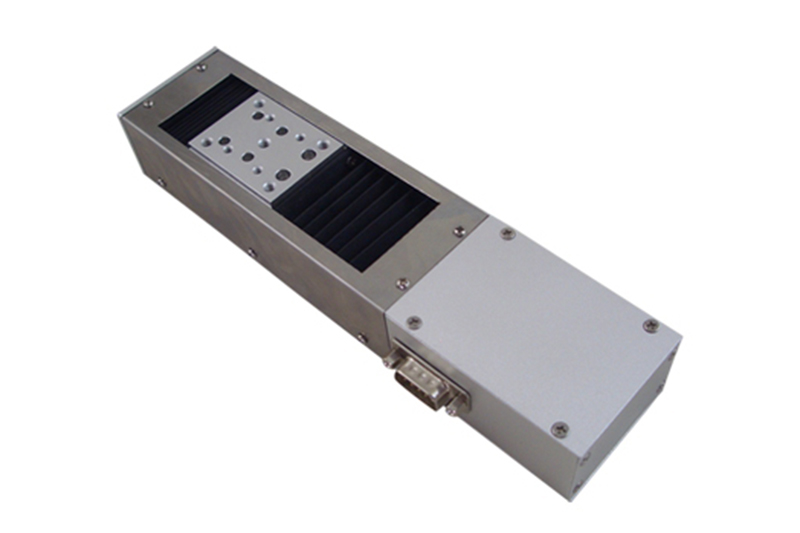 WN150TA(15-50)Hcompact motorized stage is suitable for providing linear displacement by electric control in automatic displacement control in scientific research, full-automatic measuring and testing equipment, industrial automation and other fields. It is small and light with a table size of 45×34mm, and is suitable for low speed and low load situation.
Parameter table of WN150TA(15-50)H Low-Profile Compact Motorized Stage
Model
WN150TA15H
WN150TA30H
WN150TA50H
Travel
15 mm
30 mm
50 mm
Table Size
45×34mm
45×34mm
45×34mm
Screw Type
Ground lead screw (lead 0.5mm)
Stepper Motor (1.8°)
28STH30-0604A
Load Capacity
5kg
Weight
2.2kg
2.75kg
3kg
Resolution
2.5μ (Non-MS driver) 0.125μ (20 MS driver)
5μ (Non-MS driver)
0.25μ (20 MS driver)
Maximum Speed
5mm /sec
10mm /sec
Repeatability
2μ
2.5μ
Positional Accuracy
8μ
Straightness
5µ
8µ
Driving Parallelism
10µ
15µ
Pitching
25″
Yawing
20″
Backlash
1µ
Runout
1µ
Features of WN150TA(15-50)H Low-Profile Compact Motorized Stage
The motorized stage is made using stainless steel material, and the surface is more wear-resistant by anodic oxidation treatment, ensuring longer service life.
Equipped with standard stepper motor and RS232 interface, the WNSC series motion controller which was independently developed by BJWN can realize automatic motion and positioning control.
High quality precision ground lead screw drive, small lead, same micro-steps can realize high resolution.
The clearance of the ground lead screw can be minimized by the structure design of eliminating backlash nuts.
Cross roller guide, stable, laterally adjustable for the pre-tension force of guide and eliminating clearance, could be used in multi-dimensional combination.
Greatly reduce the pitching and yawing of the motorized stage through the ground base plate and the reasonable mounted guide, so as to effectively improve the straightness and driving parallelism.
Connected the stepper motor and ground lead screw by high quality flexible coupling, drive synchronization, good for eliminating eccentricity and greatly reducing eccentricity disturbance, lower noise.
Install zero and limit switches at both ends for accurate positioning and product protection.
The base has tapped hole and through hole with standard spacing for the convenience of installation and fixation.
Accept customized installation of servo motor and linear scale.
---
Related Products